What is Saffron?
Saffron is a spice derived from the flower of Crocus sativus, commonly known as the "saffron crocus". The vivid crimson stigmas and styles, called threads, are collected and dried to be used mainly as Food seasoning, coloring agent and medicinal. It plays an important role in the consumer culture of different regions of the world, such as Middle East Countries, Spain, Italy, and India and so on.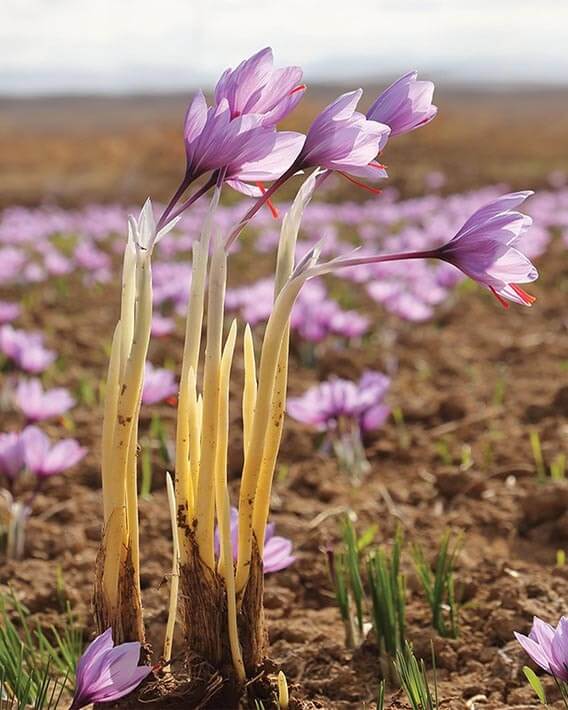 Saffron is used as a spice, a color, and an aroma of food.
In recent years, the use of saffron has been increasing due to the tendency of the community to use natural supplements instead of chemical and synthetic types in food as a natural colorant and flavor.
The color of saffron and its taste increase appetite Today, saffron is widely used in cooking, confectionary, dairy industries (ice cream, butter, cheese, etc.), various drinks (beverages, saffron tea and energy drinks, etc.( as a dyestuff and flavoring agent.
Chemical and Industrial Applications
From ancient times, saffron was considered to have different properties like other spices.
Nowadays, based on scientific research, which has been followed by the extensive use of saffron in traditional and herbal medicine, it has attracted many properties of saffron and the effectiveness of its compounds.
Many researchers and practitioners of medical science
Pharmaceutical applications
Because of the unique characteristics of saffron, it can be used in various industries.
Today, natural colors have a lot of fans around the world due to consumer safety and the lack of negative effects on the health of the body.
For many years, natural colors have been used in the dyeing industry.
Saffron is also used because of specific compounds in health care, as well as the production of fragrant and fermented substances.